Premium Cheap Envelopes...
Discount trade envelopes for every occasion.
Offered by the box to trade and domestic envelope buyers.
Less handling means lower cost to you and minimum harm to our environment.
ENVELOPE TYPE: Wallet


SEALING: Self Seal


COLOUR: White


OPAQUE: Blue Hatch


WINDOW: 90 x 45mm | 50UP 150IN


RECYCLED: No


WEIGHT: 100gsm


SIZE: 162 x 229mm C5


BOX QUANTITY: 500

---
Exclusive Discount Loyalty Deal...
Click below to see how much you will save if we print this item for you.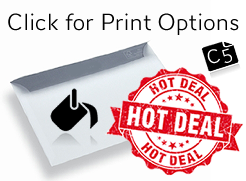 As a customer of DiscountEnvelopes.co.uk we can print this item for you with huge savings.
Simply click on the image above to see your exclusive print price.
---
Available Free Extras
Take advantage of our freebies by clicking the buttons below.

---
Wallet Self Seal Portrait Window White C5 162×229mm 100gsm
Product Code: 6805PW
Reward Points:

100

Availability: In Stock
Total:

£24.99

+ VAT
Price in reward points:

2300
Changing quantity below updates the TOTAL above.
Quantity Price Discounts
5 or more £22.99
10 or more £19.99
Frequently Bought Together...
Tags: Wallet, Self Seal, Portrait Window, White, C5, 162×229mm, 100gsm

Envelopes you have recently viewed......
Todays most popular print orders...